How to access and submit a form in
selenium WebDriver?
This blog will help you understand how you can access forms in Selenium to automate browser testing of your web application
Selenium supports multiple languages but here focusing on selenium with java. So for that you need to have java in your machine before you start writing an automation scripts.
In the following, we are going to see the easiest way to create a java program to access a simple contact us form of an Application Under Test (AUT). We can create a simple data set in excel for contact us form which can be used to automatically enter and submit data.
The following are prerequisites to accomplish the above
Java environment (Download Java here)
Eclipse IDE (Download Eclipse here)
Chrome WebDriver (Download Driver here)
Creating an automation test includes the following steps
Create a Maven Project
Create a Java class for Contact us form
Create a data set
Write functional logic
Run test script
Now it's time to create a contact us form project for the sample Selenium project in Eclipse . This will be a maven project, which you can create by following the steps given below.
1. Create a Maven Project
i. Open your eclipse and go to File > New > Other, select Maven Project and click Next.

ii. Select the 'maven-aechetype-quickstart' and click Next.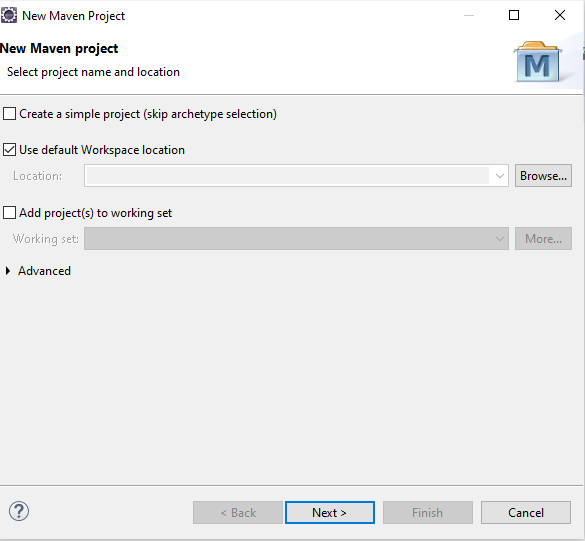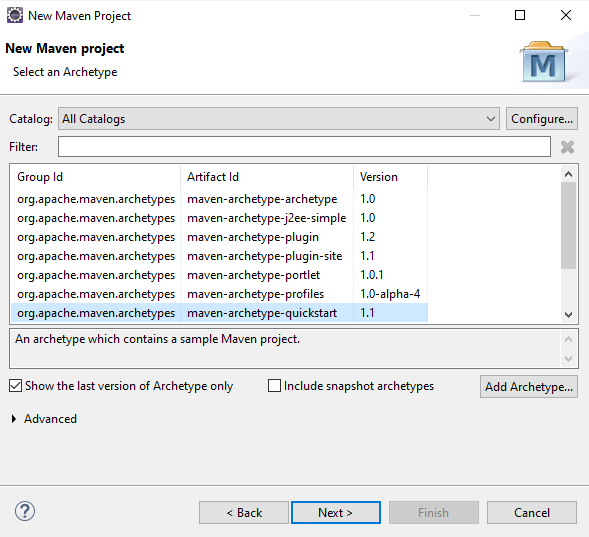 iii. Specify the Group Id and Artifact Id and click Finish.

iv. Check the folder structure as below.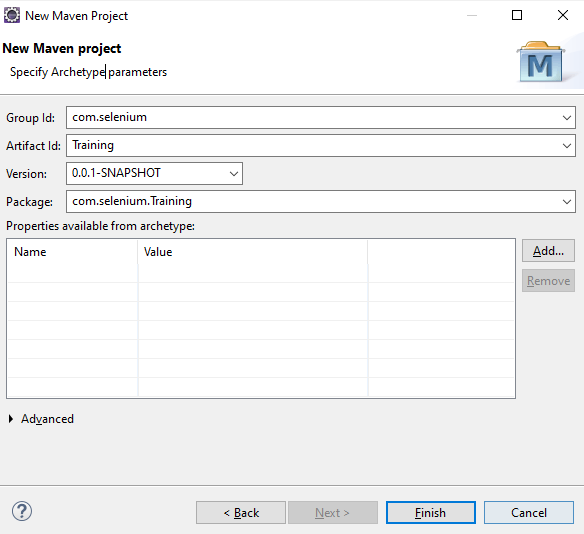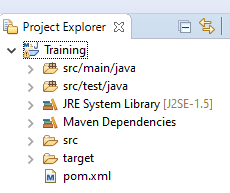 v. Add dependency for Selenium Java and Apache POI by opening the pom.xml and update in corresponding tabs.

vi. Dependency for Selenium Java

<dependency>
<groupId>org.seleniumhq.selenium</groupId>
<artifactId>selenium-server</artifactId>
<version>2.53.0</version>
</dependency>
vii. Dependency for Apache POI
2. Create a Java class for Contact us form
i. Right click on package (com.selenium.Training) > New > Class and fill the details for new class and click Finish. the Java class gets created successfully as shown below.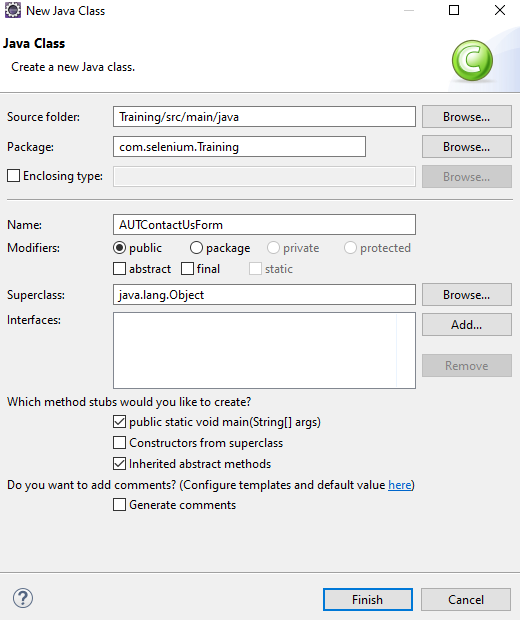 3. Create a data set
i. Create a new folder in project location and name it as TestData

ii. Create a new blank excel document and name the document data and save it in TestData folder.

iii. This data file includes contact us form details (Name, Email, subject, Phone, Message)
The complete source code is available in github. The code can be imported in Eclipse from File > Open Projects from File System.
4. Write functional logic
i. Set system property of browser System.setProperty ("webdriver.chrome.driver", "Path of chrome driver exe");

ii. Create a driver object based on your browser ChromeDriver driver = new ChromeDriver();

iii. Paste source code path in Import Source Text box and click on Finish.

iv. Set system property of browser System.setProperty ("webdriver.chrome.driver", "Path of chrome driver exe");

v. If you run this script, a blank chrome page will be opened.

vi. The Code to navigate Application URL is driver.get ("https://www.vconnexservices.com/");

vii. The current directory would be the directory where your project is located.System.getProperty ("user.dir")

viii. Call the getSheet() method of Workbook and pass the Sheet Name here. Sheet sheetName = workbook.getSheet ("Sheetname");

Final Program Structure like this
5. Run test script
Click the "Run" button in the toolbar or use keyboard shortcut ctrl+F11
Continue Learning!