How to Outsource Mobile App Development (The Ultimate Guide 2023)
How to Outsource Mobile App Development (The Ultimate Guide 2023)
For companies, this means developing a tremendous variety of mobile apps. Even within the same organization, there can be a wide set of mobile apps targeted at different customer types or even various segments of internal users.
That brings the primary question when it comes to mobile app development. Who should build these next-level apps that will satiate the needs and demands of mobile users?
Once you've decided to create a mobile application for your business, you will face a tough choice. Is it better to hire your in-house development team or find the best outsourcing mobile app development company? In this article, we'll dig into the specifics of the latter option.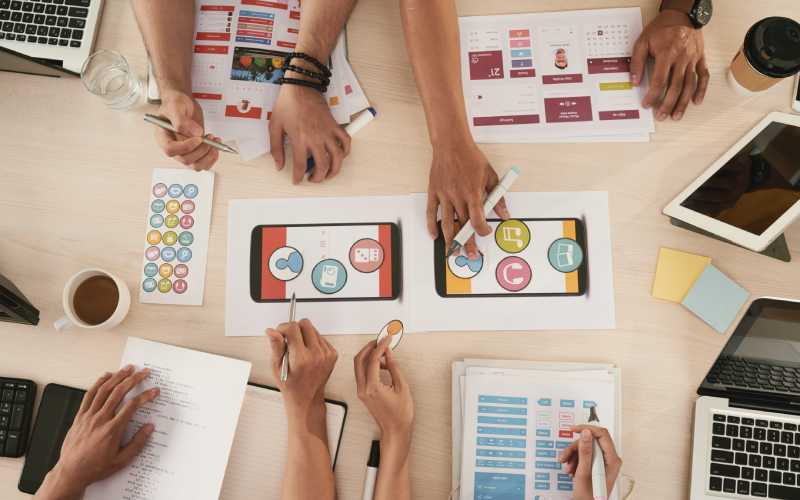 What Is Mobile App Development Outsourcing?
If you cannot create your mobile app in-house for whatever reason, you might have to turn to an outside company to design, develop or deploy it for you. This process is what's called mobile app development outsourcing. It is the arrangement you make to hire a third-party company to do the development of your mobile app.
Developing your app internally demands lots of time, money, and other resources. Outsourcing allows you to turn the whole thing into a one-off or ongoing expense - the development company fee.
Mobile development outsources companies take many forms and names.
They may go by mobile/design studios, digital companies, mobile specialists, app developers, freelancers, dev shops, mobile consultants, or systems integrators. Most mobile development companies boast teams of project managers, designers, quality assurance engineers, programmers, developers, and software lead engineers who have dealt with several projects together.
They work as a team to build an app from the ground up, and there's an expert for each step of the development.
You cannot say the same about most in-house IT teams. The odds are that you have a few IT professionals in your team with mobile expertise. Even if you decide to hire to fill the expertise gap, the people you bring in will cost more money and time to onboard. Development companies, on the other hand, know the ins and outs of each member of the team, so they'll get cracking on your app from the word "go." It's all seamless and collaborative from start to finish.
Benefits of Outsourcing Mobile App Development
1. Outsourcing helps you reduce development costs
Building a well-designed and functional mobile application that your target audience will want to use isn't exactly cheap. That's why the cost tag is usually the first thing companies consider before going ahead with app development. In most cases, the app itself will not get immediate returns.
A good app isn't built by one or two people. It's the job of several experts, from designers to testers. Putting together a full in-house team will cost you a fortune because you'll have to pay their salaries, insurance, time off, and other incentives. On the contrary, it'll cost you LESS when you outsource your entire development project to a competent mobile app company. You don't have to hire new employees. You don't have to worry about extra payroll issues. You don't have to deal with paid sick or leave days.
With that said, when you hire an app development company, you know what you will pay for your mobile app development upfront. Once you have agreed on the price, all associated costs will fall under the company, unless you change the scope of work.
2. More expertise means better quality
If IT isn't one of your company's key competencies, mobile development will, of course, take longer to finish, and may not yield an app that'll compete well in the market. Mobile app outsourcing allows you to delegate tasks to experts with a proven track record of delivering high-quality work on time and within budget.
This way, you can focus your attention and resources on your company's core competencies. When experienced professionals are handling the development, you can rest assured of expert-grade work, fast turnaround, and on-time delivery.
For instance, if you are an e-commerce store; outsourcing your e-store app to the right company means your staff will focus on customer service, marketing, and other efforts to boost your online sales.
3. Enjoy ongoing support
Incorporating a mobile strategy into your core business isn't a one-and-done. The development of a mobile app is not even half the battle. You will have to update the application regularly to match user expectations, as well as deal with other issues like content, security, cloud hosting, analytics, and even monetization.
A mobile app development company with the right tools and cutting-edge expertise will help you every step of the way, from mobile strategy ideation and design to development, deployment, and ongoing support.
Because the cost of each mobile service is fixed, you don't have to worry about sudden costs. You can budget for your mobile strategy accordingly, and sleep easy knowing that everything is taken care of in your app's life cycle.
4. Gain privileged access to domain knowledge
Staying competitive in today's complex business world is not easy, but one solution is getting your feet wet in new, innovative markets with higher ROI potential.
While most startups kickstart their ventures with a single great idea, there comes a time when you want to make a foray into other markets to take advantage of emerging opportunities.
A good outsourcing partner will help you gain access to the ins and outs of new and more exciting domains and opportunities. Often that means working with a multi-competent company with expertise in areas like Flutter ,Swift , .NET, Laravel, React.JS, JavaScript, AWS , and other competencies that can help pivot your business for expansion.
5. Outsourcing increases business efficiency
If you are a startup, time-to-market speed is everything. If someone else beats you to the market, it can be difficult for you to gain traction later even if your product is of superior quality. App development companies hire talented designers, developers, product managers, and other skilled pros who add value to their teams.
Your project will not be their first rodeo. Owing to their experience and wealth of knowledge, most outsourcing partners know how to tackle different business objectives and typically have a deep understanding of how to align your app to your bigger goals. Taking advantage of your outsourcing partner's experience is plain sailing to the successful product you want to build.
While the mobile app development company is building your core product (assuming it's the application), you can pay more attention to marketing, invest more in research, increase your brand awareness, and spruce up other aspects that matter to your company's bottom line.
6. Diversifying and scaling team skills
Delegating mobile development activities to a creative company helps you take the skills of your IT team to the next level, as well as scale your costs as required. For example, if you have to direct more dollars in your budget towards marketing or sales, you can cut IT costs to make up for the deficit without hurting your mobile strategy.
If you want to increase the size of your team, you can easily hire professionals in other core competencies because the company has got you covered as far as your mobility strategy is concerned.
7. More accountability
Members of an in-house team know that your app isn't necessarily the highlight of their careers. With the right CV, they can always jump to another company, or, even worse, your competitor.
On the other hand, a mobile app company has a reputation to uphold and a name to protect. Consequently, they will do everything they can to deliver pure gold, and make sure that you are 100% satisfied with the result. Mobile app dev companies want to gain your confidence, your referrals, and repeat business. They want to make a name for themselves in a space that's already oversaturated.
So, your app's success is their success too, which is why outsourcing mobile development is more of a partnership than a transaction.
8. Improve customer experiences
Successful mobile apps are built with the user in mind. Forward-thinking outsourcing companies will help you research, identify and thereafter track customer personas. And because of this, you will have a deeper understanding of user intent, customer expectations, and other aspects of your target audience so you can tailor your app to meet their needs, and preferences and solve their problems.
Reasons Why Companies Don't Outsource
While the benefits of mobile app development outsourcing are obvious, many companies still hesitate to pursue them as they don't know how to outsource app development wisely. Let's take a look at the main concerns that might prevent you from mobile development outsourcing and how to overcome insecurities with zero loss for a business.
1. Choosing the wrong vendor
This is the main concern of those who decide to outsource app development. In most cases, companies that choose a vendor based on price comparison make this mistake. For example, when you outsource app development to India, you risk getting a low quality of code in the future. Thus, selecting a vendor based on these criteria might not be the best solution.
Solution: select a vendor based on several criteria, including portfolio, experience, client reviews, etc.
2. Unexpected results
So, you've found your ideal company but the vendor doesn't deliver the expected results. Sounds like a nightmare, isn't it? Such a problem is common among vendors and clients that don't share expectations. If you are silent about what you want to get at the end of development, don't expect your vendor to guess your business requirements and expectations.
Solution: initial project discussion and timely feedback guarantee that you will get the results you want to need.
3. Security concerns
Often clients don't know how to outsource app development and keep their business safe. They are concerned about security and sharing access to sensitive data. Still, you can easily mitigate the related risks by working with a professional outsourcing development company.
Solution: sign an NDA and stick to the specified rules for the duration of cooperation.
4. Communication issues
Setting up a smooth communication process is a necessity for successful mobile application outsourcing. Usually, a project manager is responsible for direct communication with the client, so getting the process right shouldn't be a problem.
Solution: negotiate and set up the communication process from the start with your project manager.
4. Communication issues
5. Underqualified vendor
So, you've found a mobile app development team that seems perfect to your team and they manage to mess up your project? Such a problem probably occurred because you haven't made sure to check the mobile app development company portfolio.
Solution: before you hire a team, check the company's portfolio as even the best vendor might not have the needed talents and experience. If you want to have a smooth run of your project, get in touch with our team for tech recommendations and project estimation.
Where to Start
You now know how to outsource app development without vesting time and money. To make sure that you fully understand what it takes to outsource app development, let's sum up everything said above. Here is what you can do to make the work on your project run smoothly:
Don't compare prices – select a vendor based on several criteria, including expertise, relevant experience, etc.
Set clear expectations – set clear goals from the beginning of cooperation with a development vendor.
Provide timely feedback – don't hesitate to provide feedback and share inputs with your app development team to keep them on track with your expectations.
Set up communication – use Slack for communication, track all tasks in Jira, conduct video calls via Zoom, etc.
Discuss payment before development starts – negotiate app development cost and timeline before signing an app development contract with a company. This way, you will be able to avoid unexpected surprises and unforeseen changes in payment terms.
Final Thoughts
When you compare hiring a mobile app company to develop a mobile app vs. building a team to build your app in-house, it's easy to see that what might be good for one company might not be good for the next. Outsourcing could be a more cost-effective and risk-free approach for a one-time build, while an internal team might make more sense long-term if you're developing a scalable product that will be frequently updated.
Outsource Mobile App Development to Vconnex Services
Vconnex Services, a top-notch mobile app development company which is based in Florida, has been making custom software for more than 20 years. Our team of skilled developers can assist you in creating successful mobile apps because they are specialists in their respective fields. We know that a mobile app is important and that it can make or break a business. So, before we start building, we take the time to learn about your business and your goals.
At Vconnex Services, we place a heavy emphasis on creating products that your company will like using and solid client connections. We are in charge of providing you with the technical solutions you require, no matter how big or small they may be. Our custom mobile app development process keeps things simple by allowing for flexibility. So, both sides can make better decisions based on what will work best for them.
If you are looking for an outsourcing app development company in Florida, we suggest adding us to the final list of candidates and requesting a free 45-minute consultation. During this meeting, we'll discuss your application idea and strategies that can turn it into a successful product.
Keep Reading:
Why You Should Choose Flutter For Mobile Application Development
10 Important Things You Need to Know Before Developing Your App
How to Publish Your App on Play Store and App Store?
Why Hybrid App Development is the Best for Your Business?
Tips and Tricks for Mobile App Testing
How to Develop a Minimum Viable Product (MVP): A Step-by-Step Guide
About Author
James Stephan works as a Digital Marketing Consultant with Vconnex Services, Inc and has more than 7 years of marketing experience in various industries. Specialized skills in the application of technology for enterprises in the exciting space of Digital transformation solutions, proven success in Paid Advertising, Search Engine Optimization (SEO), Search Engine Marketing (SEM) and exposure to Data Analytic and Social Media Tools.