A digital platform to create customized children's e-books that can be passed on
to future generations
Executive Summary
Make Momentos, LLC came up with the brilliant idea of building a digital platform where adults can customize a children's e-book with a video message and audio narration and send it to a child as a treasured keepsake. The platform needed to include an e-commerce website, a web-based application and an e-reader mobile app. Make Momentos wanted a software developer that understood their vision and could transform it into a digital solution in time for the 2021 holiday season.
Business Challenge
Find a qualified development team to build the platform on time and within budget
Make Momentos was following the Lean Startup method and wanted to build a fully functional product they could launch, get feedback on and iterate as needed. To start, they wanted an e-commerce site where customers could browse and purchase digital books, a user-friendly web application to record video and audio, and a mobile e-reader app for both iOS and android devices. The company was looking for the right software development firm to assist them in turning their idea into a digital product. It took several months to find the perfect match.
After interviewing many domestic and international software development firms, Make Momentos awarded the project to Vconnex Services in June 2021. The Vconnex proposal had a well-defined solution with the appropriate technology stack (AngularJS, NodeJs, MySQL, Flutter); the firm was also recommended by South Florida Tech Hub, and feedback from previous Vconnex clients was positive.
Solution
A complete end-to-end system that met all project requirements
Make Momentos had worked with an independent UX/UI designer to create wireframes for their idea. They provided the wireframes to Vconnex along with a complete FRD.
Vconnex began work in earnest in early July 2021. The firm's dedicated development team created a functional wireframe to fine-tune the design further. They delivered a working web application on a staging site at the end of July, empowering the Make Momentos team not only to monitor the progress but also to provide timely feedback. A working product was available for beta testing in October and launched to the public in November after additional modifications were made.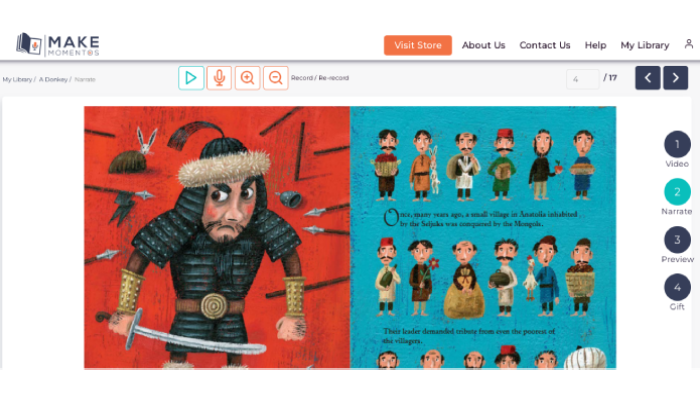 The solution included:
A Shopify site where customers can browse and purchase e-books and connect to the web-based app directly once they have made a purchase

A notification to the customer with a link to the web application's login page

A web application that allows users to record video and narrate e-books, preview the recordings, re-record the video and audio as needed, and send the keepsake e-book gifts

An e-reader app that can be downloaded from the App Store and Google Play Store to scan the e-books and play them on a smartphone or tablet
Vconnex's solution provided all the necessary functionalities and features including those for uploading books, managing users, backend functionalities, Shopify webhook integrations, and more. Vconnex also provided training to Make Momentos on how to maintain process flow.
All components of the application were completed in under five months and the product was launched in time for the holiday season as planned.
Results
Vconnex Services transformed Make Momentos' founder Michelle Booth's dream/idea into a reality. The product is easy to use and feedback from grandparents and moms is that the experience is fun and they will use the platform again.
Children who have received an e-book and viewed it with the Make Momentos e-reader app were delighted to learn they could play it over and over again. Some even asked if they could have more books like the one they had received. - Michelle Booth
Make Momentos continues to collect feedback from its customers and plans to improve and enhance the platform with additional features and functionality in the future. Vconnex Sevices has become Make Momentos' preferred development partner for further services
About Make Momentos
Headquartered in South Florida, Make Momentos, LLC offers adults an easy-to-use platform to create keepsake e-books for the children in their lives that can be passed down to future generations. Make Momentos is a female-led tech startup founded by ghostwriter and editor Michelle Booth in 2021.
About Vconnex Services
Vconnex Services, Inc. provides custom software development for websites, web applications, eCommerce solutions and mobile applications to help clients transform ideas into solutions. Located in West Palm Beach, Fla., the company serves clients in education, engineering, health care industries, among others. Jeyanthi Rajaselvarasu founded Vconnex Services in 2010.