Top 10 Automation
Testing Tools
QA automation testing is just what it sounds like quality assurance for apps and software through mobile testing and web testing. In today's digital world of software development, automation testing tools prove to be of major significance in building a robust product while enabling Quality at Speed.
Automation testing means running the software programs that carry out the execution of test cases automatically and produce the test results without any human intervention. The objective of automation testing tools has changed from being focused on shortening testing times to better coverage and effective use of test cases.
Making use of the right tools for automation testing at the right time is essential to deliver a quality product at speed.
These tools make sure that the benefits of automation are delivered to the fullest.
There are a wide range of test automation software available in the market and these tools differ in many ways and some are as follows.
Application - Web, Desktop and Mobile

License - Opensource, Commercial

Record and playback feature
Explore the list of 10 best test automation tools to deliver quality products at scale.
1. Selenium, 2. Katalon Studio, 3. UFT one, 4. Appium, 5. IBM Rational Functional Tester, 6. Telerik Test Studio, 7. WATIR, 8. Test Complete, 9. Cucumber, 10. Ranorex
1. Selenium
Selenium 4.0.0 Alpha 5 released in March of 2020,Selenium offers flexibility that is unseen in many other test automation tools and frameworks. Users can write test scripts in many different languages such as Java, Groovy, Python, C#, PHP, Ruby, and Perl. that run on multiple system environments(Windows, Mac, Linux) and browsers (Chrome, Firefox, IE, and Headless browsers).

Website: https://www.selenium.dev

License: Opensource.
2. UFT one
UFT One (UFT stands for Unified Functional Testing) is a popular commercial tool to test Web, desktop, mobile, and RPA application. It has been extended to include a good set of capabilities for API testing. By supporting multiple platforms for the target application under test (AUT), UFT One provides a convenient choice to test the AUT that operates on desktop, web, and mobile.

UFT One provides several advanced capabilities for smart object detection, image-based object detection, and correction.

Website: https://www.microfocus.com

License: Commercial.
3. Katalon Studio
Katalon Studio is a comprehensive test automation tool that covers from API, Web, Desktop to mobile testing. Katalon Studio is versatile as it runs on Windows, macOS, and Linux. It also supports the testing of iOS and Android apps, Web applications on all modern browsers, and API services. Katalon Studio can be integrated with a variety of other tools such as JIRA, qTest, Kobiton, Git, Slack, and more.

Website: https://www.katalon.com

License: Free.
4. Appium
Appium is one of the open-source automated testing tools primarily intended for mobile applications. It backs automation of native, hybrid, and mobile web applications built for iOS and Android. Support multiple programming languages such as Java, Ruby, Python.

Website: http://appium.io

License: Opensource.
5. IBM Rational Functional Tester
Rational Functional Tester (RFT) is a commercial automation testing tool from IBM. This tool is mainly intended for automated functional testing and regression testing, GUI testing, and data-driven testing.

This automation tool supports many development environments including Siebel, Net, SAP, Java, PowerBuilder, Flex, and Dojo, amongst others. Support two programming languages such as Java and VB.Net.

Website: https://www.ibm.com

License: Commercial.
6. Telerik Test Studio
It provides cross-browser support and has a record & playback tool that is well-suited for GUI, performance, load, and API testing. Telerik Test Studio supports automating applications built with HTML5, Angular, AJAX, JavaScript, Silverlight, WPF, MVC, Ruby, and PHP in addition to iOS & Android applications.Support two programming languages such as C# and VB.Net.

Website: https://www.telerik.com

License: Commercial.
7. WATIR
WATIR stands for Web Application Testing In Ruby. It allows you to write automated tests by facilitates the writing of automated tests by imitating the behavior of a user interacting with a web application.

It is an open-source testing tool. It allows us to do automation testing based on Ruby libraries. It supports cross-browser testing including Internet Explorer, Firefox, Opera, and headless browser. It supports data-driven testing. It can be integrated with BDD tools like RSpec, Cucumber, and Test/Unit.

Website: http://watir.com

License: Opensource.
8. Test Complete
TestComplete is a powerful and easy-to-use functional test automation tool from SmartBear. It can automate tests across desktop, mobile, and web applications.

TestComplete supports many scripting languages like VBScript, Python, and JavaScript as well as various testing techniques such as keyword-driven testing, data-driven testing, regression testing, and distributed testing.

With the tool's record-and-replay feature and the robust object identification engine, you can also create complex automated test scripts without writing a single line of code.

Website: https://smartbear.com

License: From $5,803 per year.
9. Cucumber
Cucumber is an open-source platform on Behavior Driven Development (BDD). It showcases an interesting clientele list including Canon and Paypal. Cucumber is designed to support only web access, focusing on enhanced user satisfaction. Major features include code compatibility with other automation frameworks, uses Gherkin code (which is in simple English) and supports various languages such as Ruby, Java, Groovy, etc.

Website: https://cucumber.io

License: Opensource.
10. Ranorex
Ranorex provides a comprehensive and professional set of features for Web, mobile, desktop, and API testing. Leveraging its experience in desktop-based test automation, Ranorex has advanced capabilities for UI element identification, editing, and management.

Like Katalon Studio, Ranorex makes automation testing easy for testers with its friendly and intuitive GUI, record/playback, and script generation.Testers can integrate Ranorex with Selenium Grid to enable distributed testing along with parallel test executions.

Website: https://www.ranorex.com

License: From €2,290 for Premium License.
Comparison of Automation Testing Tools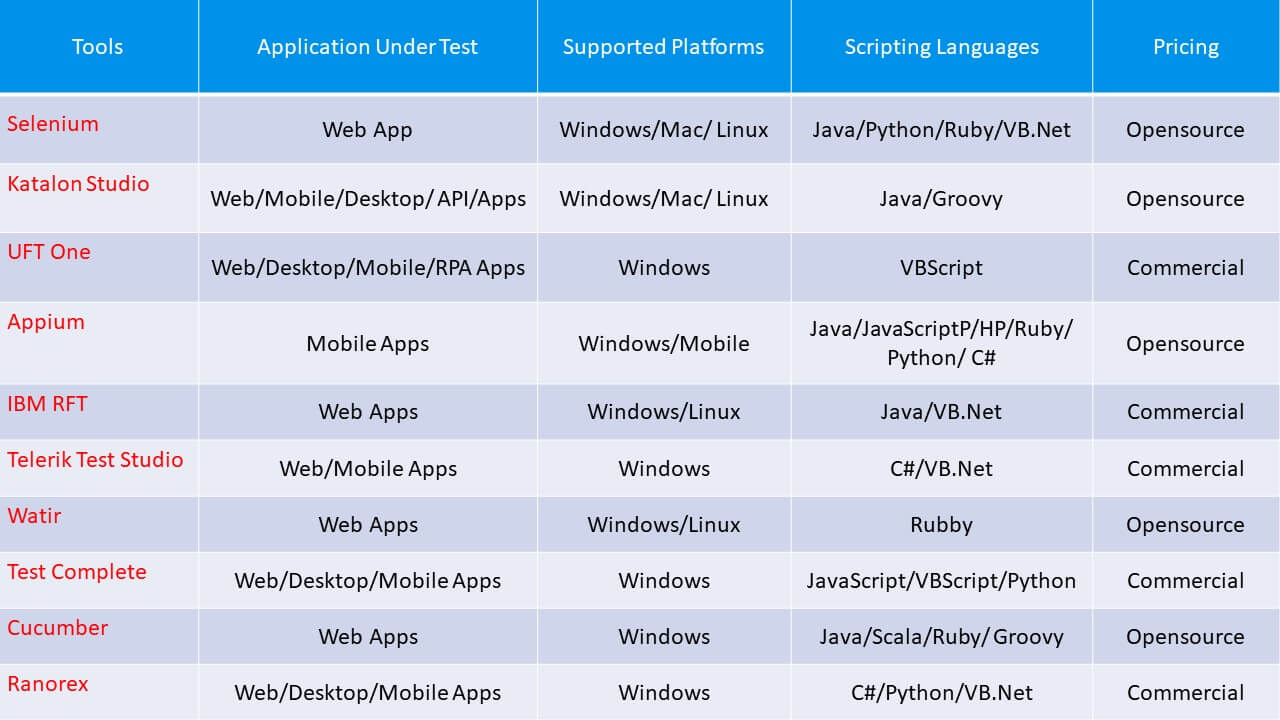 Summary
There are many automation tools available in the market addressing different types of testing.Each one is unique and designed for specific testing areas. It requires a detailed comparison analysis for the testing team to choose the right tool based on project requirements and skillsets.
Software products are continuously evolving as we move towards more digital, so the testing. It requires an experienced, focused and dedicated testing team to deliver a bug free software. Choosing the right tool, using it for right testing and delivering a quality softwareis very important to gain customer's TRUST.